Ease of use
Self-explanatory design leads users to put a finger on the scanner in a correct way without needing assistance.
Certified image quality
Certified by the German Federal Office for Information Security according to the "BSI-TR-03104" standard.
High speed
It's advanced optical system takes plain fingerprint images in just a second.
Detail Products
The DERMALOG's LF10 is the first tenprint and rolled fingerprint scanner providing liveness detection. Using its large scanning area the LF10 is optimized for creating high quality images. Its advanced optical system captures plain fingerprint images and rolled fingerprints within a second. From border management to voters registration or law enforcement - a complete biometric solution.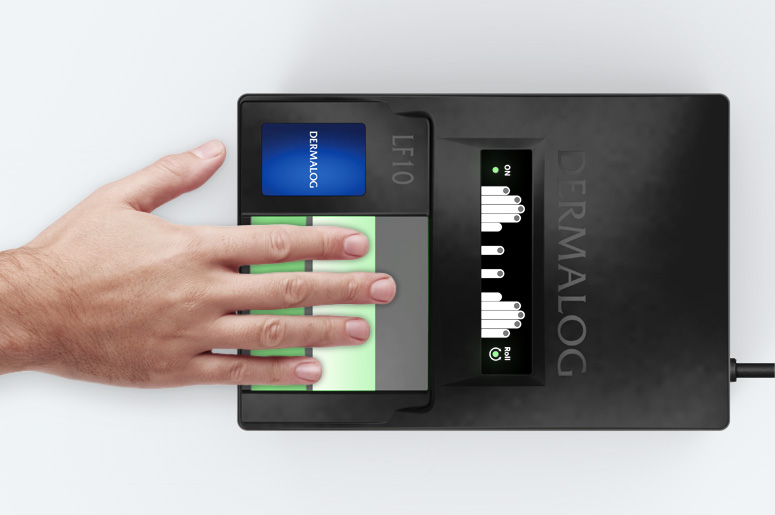 Products Use For
---
Border Control
The most advanced solution with latest technologies for border control fully integrated.
Police AFIS
State of the art solution providing comprehensive support for forensic investigation and law enforcement.
Biometric Banking
Complete biometric solutions for banks - ensuring maximum security and best possible KYC.
Technical Data
Fingerprint scanning window size
86 mm x 84 mm
Optical scanning area
81 mm x 81 mm
Image resolution
1600 x1600 pixels, 500 dpi
Bit Depth
8 bit, 256 gray levels
Raw fingerprint image file size WSQ compressed
Approx. 2.5 MB
Approx. 0.4 MB
Interface
USB 2.0 high-speed with 1.8 meters standard USB cable
Dimensions (H x W x D)
120 mm x 163 mm x 238 mm
Weight
2.3 kg
Operating temperature
0°C to 50°C at a humidity of 5 - 95% non-condensing
Storage temperature
0°C to 50°C at a humidity of 5 - 95% non-condensing
Light source
Infrared light-emitting diodes (LED)
Supply
external AC adapter with 1.8 m cable, 100 - 240V, 50/ 60Hz, 0.6A
Certificatios
CE, BSI-TR-03104, FBI-EBTF/F