Easy of use
Self-explanatory design leads users to put a finger on the scanner in a correct way without needing assistance.
Excellent Quality
The device ensures excellent results for both wet and dry fingerprints.
High speed
It's advanced optical system takes plain fingerprint images in just a second.
Detail Products
The DERMALOG ZF1 – fingerprint biometrics whenever and wherever needed. The ZF1 captures fingerprints for ePassports, ID cards and can be used for enrollment, authentication and identification in governmental, commercial and industrial environments. Its variety of application sectors makes the ZF1 scanner the everyday solution for biometric business.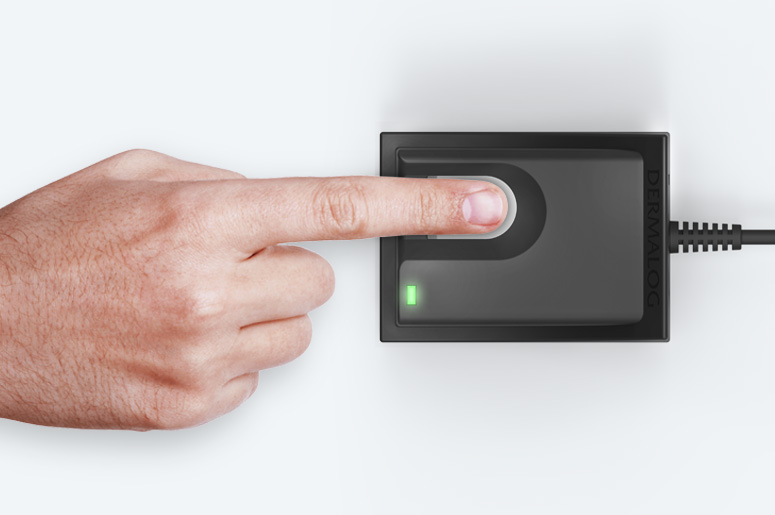 Products Use For
Police AFIS
State of the art solution providing comprehensive support for forensic investigation and law enforcement.
Police AFIS
Complete biometric solutions for banks - ensuring maximum security and best possible KYC.
Election Systems
Preventing duplicate registrations and supporting governments to conduct efficient and transparent elections.
Biometric Payment
Server-driven biometric matching enables a full replacement of PIN numbers and passwords.
Technical Data
| | |
| --- | --- |
| Fingerprint scanning window size | 126 mm x 89 mm |
| Optical scanning area | 82 mm x 77 mm |
| Image resolution | 1600 x 1500 pixels, 500 dpi |
| Bit Depth | 8 bit, 256 gray levels |
| Raw fingerprint image file size WSQ compressed | Approx. 2.4 MB Approx. 0.4 MB |
| Interface | USB 2.0 hi-speed, integrated 2-port USB hub |
| Dimensions (H x W x D) | 6184 mm x 185 mm x 291 mm |
| Weight | 3.5 kg |
| Operating temperature | 0°C to 50°C at a humidity of 5 - 90 % non-condensing |
| Storage temperature | -20°C to 60°C at a humidity of 5 - 90 % non-condensing |
| Light source | Infrared light-emitting diode (LED) + VIS + UV |
| Supply | external AC adapter with 1.8m cable, 100-240V, 50/60Hz, 1.6A |
| Passport Scanning area | 126 mm x 89 mm |
| Optical resolution | high resolution color camera with 400 dpi / 250 dpi |
| Lighting | full color passport scan, Infrared (IR), ultraviolet (UV) |
| RFID Reader | RFID reader for both pages of a passport |
| Certifications | CE, BSI TR-03105 |